Under the guidance of the "14th Five-year plan", the smart lighting industry has entered a golden period of development.
Looking at the home scene, smart lighting devices have become an essential item for consumers to improve their home environment and build whole-house intelligence. IDC data shows that more than 895 million smart home devices had been shipped worldwide in 2021, of which lighting devices will account for 10% of shipments, or about 89 million units. [1]
Apart from home scene, smart lighting has also begun to be widely used in various commercial scenes with the global smart city construction kicked off. Smart lighting plays an unparalleled role in emerging cultural and artistic scenes such as light show and light art exhibition, as well as the smart transformation of traditional industries such as municipal administration and agricultural industry.
On the one hand, smart lighting has the functions of color temperature, color difference adjustment and voice control, which can create colorful lighting effects for literary and artistic scenes; On the other hand, the low power consumption and other characteristics of smart lighting can help the traditional high energy consuming industries to reduce costs and increase efficiency.
However, the process of smart transformation is not easy for many traditional enterprises. Issues such as voice control and cross-protocol communication have been plaguing them in creating connected and intelligent products.
To effectively build full-scene intelligence, Signcomplex and global IoT development platform provider Tuya Smart (NYSE: TUYA) announced a partnership and officially signed a cooperation agreement on April 28th. The signing ceremony was attended by Mary, Marketing Vice President, May, General Manager of Smart Lighting Division and Nick, Vice General Manager of Smart Lighting Division from Signcomplex, as well as Lin Tianzhun, General Manager of South China Region, Ren Hangbo, Marketing Director of IoT PaaS, and Deng Yi, Head of Lighting Sales of South China Region from Tuya Smart.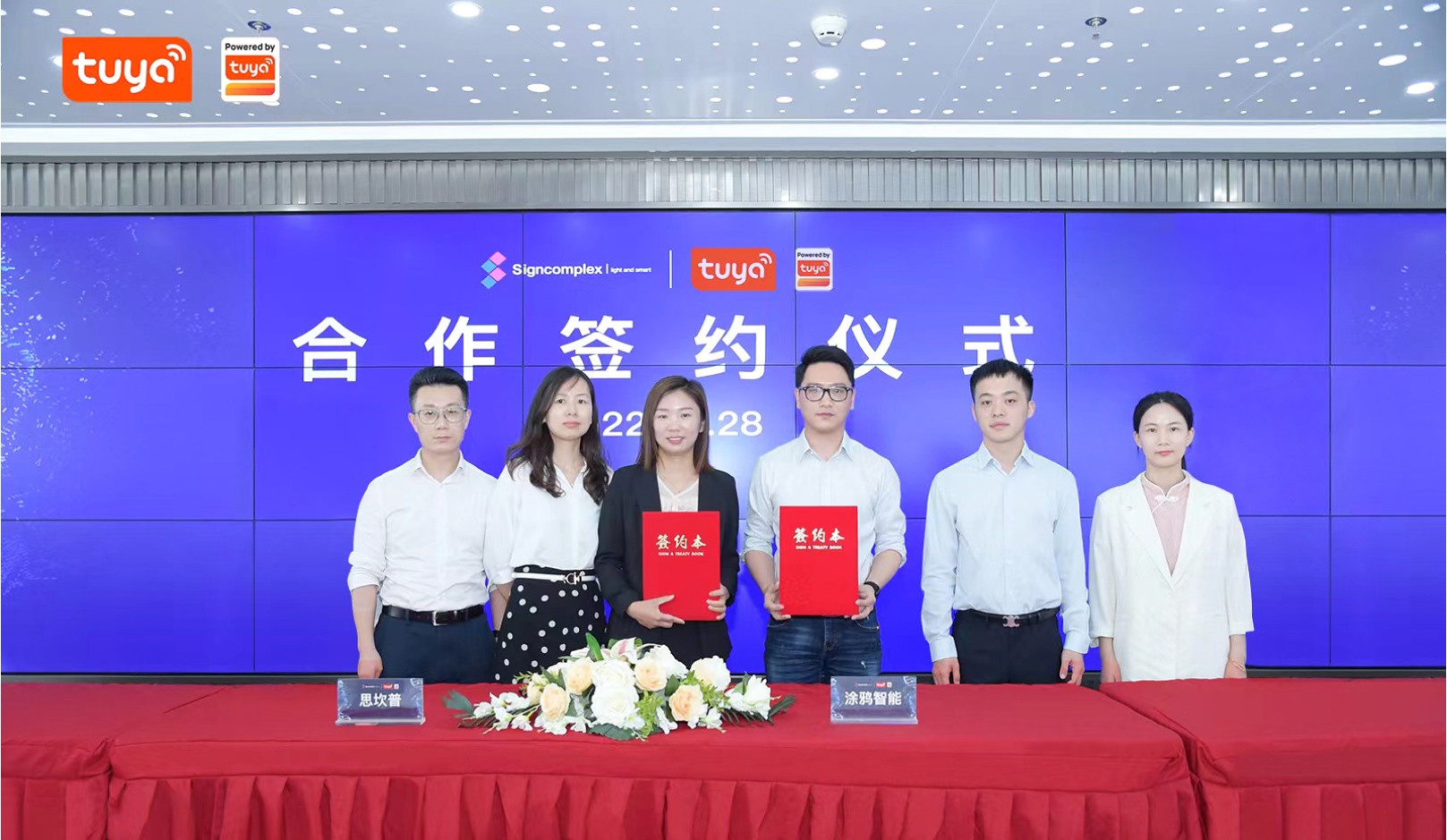 This cooperation marks that the two parties continue to deepen cooperation in the field of lighting, focus on improving the digital intelligence level of lighting products, and actively broaden the applications of smart lighting, so as to enhance the commercial imagination of the overall lighting industry.
The two parties took the lead in reaching cooperation in product smart upgrading. Relying on the Tuya IoT development platform, Signcomplex's technology has realized the intelligent upgrading of indoor lighting products such as LED strip, ceiling light, cabinet light and floor light, as well as outdoor lighting products such as security light with sensing camera, courtyard string lights and outdoor lawn light. The voice ecological module provided by Tuya Smart also helps Signcomplex's technology realize the intelligent control of the whole house lighting.
In the future, the two parties will also deepen cooperation in technology to expand the applications of smart lighting from the home to commercial and industrial areas, and promote more scenarios to achieve digital intelligence.
At the same time, Tuya Smart's rich developer ecosystem will also provide Signcomplex with supply chain resources that are more adaptable and cost-effective, assisting Signcomplex to expand its business quickly. In addition, the smart devices empowered by Tuya Smart have now radiated over 120,000 channels worldwide, and the strong channel capability will also help Signcomplex to develop more overseas markets and achieve globalization.
The lighting industry is seeing a new round of innovation and upgrading. The cooperation between Signcomplex and Tuya Smart will enable both parties to quickly gain a foothold in the smart lighting market and drive the industry to a higher level of digital intelligence. Signcomplex's strong product development capabilities and Tuya Smart's strong technical and channel capabilities will also form a synergy to create a richer and more comfortable lighting experience for end users.
Reference:
[1]智能家居照明市场:2021全球出货量约0.89亿台,2026将增至2.4亿台.[EB/OL].
https://www.lightingchina.com.cn/News/88083.html.
2022-04-30/2022-05-05